Summer freezer meals are THE simple dinner solution that helps you spend more time in the sunshine and less time in the kitchen!

Summer Freezer Meals are the best way to spend less time in the kitchen, and more time soaking up the sunshine!
The heat is upon us and the last thing you want to be doing is heating up the kitchen everyday.
The less time I have to spend thinking about and preparing dinner, the more time I get to spend in the pool…or sneaking in a movie with the boys. Or running them to and from Vacation Bible School or tennis camp, or gymnastics camp.
I don't know about you, but I'd much rather spend time creating these amazing memories and moments to cherish forever, than sweat away in the kitchen. I'd much rather spend an hour in the kitchen getting a bunch of meals pulled together, than not have to think about or worry about what's for dinner at the end of an exhausting day of summer fun.
It's about more than time too…it's about money. I know, for me, the temptation to hit the drive thru is much higher in the summer months. And that gets expensive fast! I want your meals this summer to be simple and easy, and I know you do too.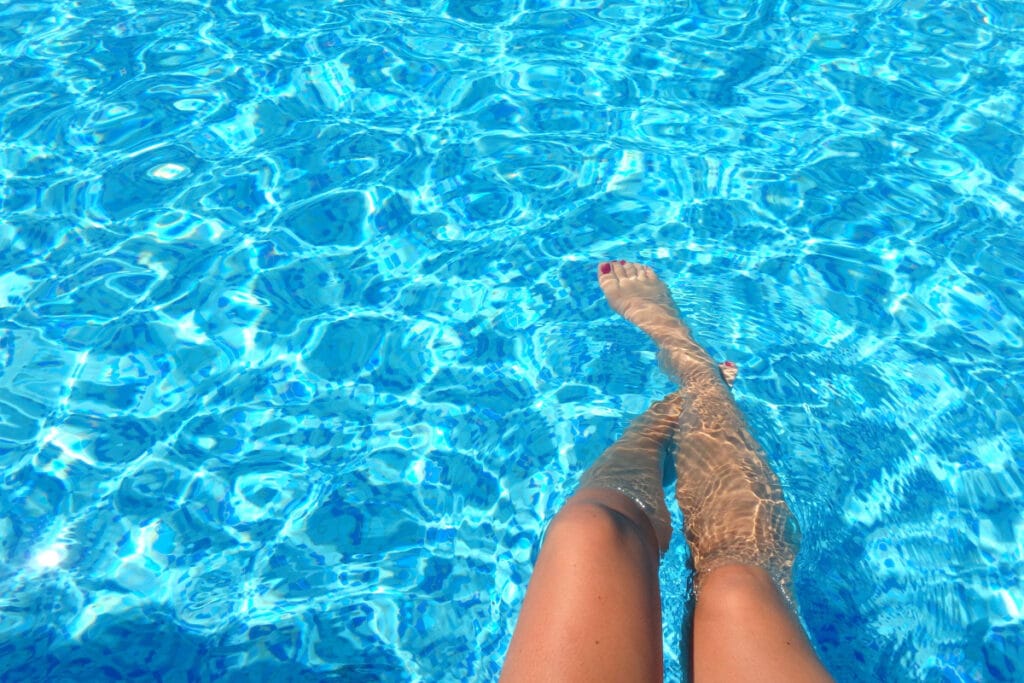 This is where freezer meals come into play. Below you will find a few how to tips, plus the best list there ever was of summer freezer meals! You'll find Instant Pot, Grilled, and Slow Cooker recipes.
RELATED RESOURCES
Why Summer Freezer Meals Are Fantastic
It's more than just a freezer meal. It's flexibility. It's confidence. It's savings.
You'll love the freedom and flexibility of freezer meals. There is something magical that happens in your mind when you know you have "back-up dinner" in the freezer. When your schedule changes or life throws you a curve ball that day, freezer meals provide flexibility and an easy option for dinner. (They are also great for days when you just don't feel like cooking!)
Less Time In The Kitchen
Spend a few hours shopping and assembling your meals, then spend more time doing the things you love. Enjoy the company of your family instead of standing in the kitchen for hours every night cooking dinner. Have a little extra energy and patience for those last minute projects because dinner is already done.
More Cash In Your Pocket
Freezer meals will keep your tummies happy and your pocketbook full. They open up the ability to shop the sales and stock up, knowing you are getting the ingredients into meals and into the freezer. You can utilize bulk pricing with the confidence of not wasting any of it. Plus, freezer meals help you skip the large bill of the drive-thru or takeout because you already have a meal prepared.
Say Goodbye to Dinnertime Stress
Freezer meals are a lifesaver and godsend on busy weeknights, or on days that just don't go as planned. (Which might be every day!?) Not having to think about or worry about 'what's for dinner?' is such a relief. Just pull from the freezer, thaw and cook. Dinner will take care of itself.

How to Cook Freezer to Slow Cooker Recipes
Freezer to Slow Cooker Meals are the BEST MINDLESS way to do dinner. Drop them frozen into the slow cooker in the morning and you've got dinner waiting at the end of the day. They are the perfect solution for getting a delicious and healthy meal on the table on busy weeknights.
Step by Step Instructions
Pull meal from freezer and thaw in warm bowl of water for five minutes. You want to get it thawed enough to separate the ingredients from the bag.
Pour the contents of the bag into the slow cooker insert.
Put the lid on.
Set slow cooker on low for at least 8 hours.
Viola! Dinner is served.
The Best Slow Cooker
I love this slow cooker – I've had it for years and years and it (still) cooks beautifully!
If you've got a slow cooker that "runs hot," or just isn't cooking right for you, I HIGHLY suggest switching to this one!
I get emails every week asking about the best slow cooker and why slow cooker food is nasty and why the meat is dry. The problem is your slow cooker. So….
I highly recommend that a slow cooker have the following features:
Programmable to the half hour
Well-tempted with a leveled "warm setting"
Auto-switch to warm setting after cooking cycle is complete
Crock-Pot brand (because I've tried others and they just don't cook evenly or the same – at least at my house!)
The one I recommend is programmable to the half hour, cooks very well and has a well temped and leveled "warm setting" too.
Also, I wanted to add – you will see MANY, MANY great options and deals for slow cookers and non-Crockpot brand slow cookers. The price might be low, but as a result – my guess is the quality and way that it cooks your food will be "off." I do not at all recommend getting any slow cooker with a "dial switch" – where you turn the dial. It just won't cook right.
Spending a little more on a quality slow cooker that cooks well but won't ruin your dinner is the wiser purchase!
Check out our Slow Cooker Freezer Meal resources below and keep scrolling to the end for the individual recipes!
The Erin Chase Store – Freezer to Slow Cooker Resources
Freezer to Slow Cooker Recipes
100 Days of Summer Freezer Meals -- Slow Cooker Recipes

How to Cook Freezer to Instant Pot Recipes
Instant Pot freezer meals are your best bet for fuss-free dinners. Plus, you get dinner on the table in a flash! Like, less than an hour.
Yes. It's possible.
Totally possible to take a rock solid, frozen ball of delicious to dinner on the table in about an hour.
You're going to need an Instant Pot or electric pressure cooker. Times and notes below based on Instant Pot DUO, 6 qt.
Fill freezer bag with ingredients using, using FreezEasy Bag Holders.
Seal bag and place into round bowl, that is smaller in diameter than your electric pressure cooker insert.
Place bowl and meal into the freezer and let freeze overnight. Remove bowl once it's the "frozen ball of delicious" is formed.
When you are ready to make your meal, place it in a bowl of warm water for 5 minutes to "quick thaw." This is just to loosen the frozen food from the baggie.
Pull the bag out of the bowl of warm water and open it up. Flip it upside down directly into the electric pressure cooker insert. Add 1 to 2 cups of water or broth.
Put the lid on and set to Sealing.
Pressure cook as directed.
Quick Release and dinner is served!
Check out our Instant Pot Freezer Meal resources below and keep scrolling to the end for the individual recipes!
The Erin Chase Store – Freezer to Instant Pot Resources
Freezer to Instant Pot Recipes
100 Days of Summer Freezer Meals -- Instant Pot

How to Cook Freezer to Grill Recipes
Thaw meal completely.
Preheat grill.
Cook as directed.
How to Cook Foil Pack Meals in Oven
You cook them in the oven….ON A BAKING SHEET!
Just about every foil pack contains a delicious sauce, therefore you do not want that sauce dripping and burning onto the bottom of your oven. It doesn't happen often, but on occasion you might find a small tear in your foil pack and the sauce will start to seep out. You can double wrap it with another piece of foil, if you catch it in time.
To be safe, place your packs onto a baking sheet.
I bake all my foil packs at 400 F, as that's pretty close to what an average grill will heat to (when lid is closed). Here are some rough cooking times for different types of meat in the foil packs. Note that cooking times will vary depending on thickness of the meat and the other contents in the foil pack.
Foil Pack Oven Cook Times:
Whole chicken breast – 40 to 45 minutes
Chicken tenderloins – 25 to 30 minutes
Stew beef (beef cubes) – 25 to 30 minutes
Salmon Fillet – 20 to 25 minutes
Cod Fillet – 15 to 20 minutes
Tilapia Fillet – 10 to 15 minutes
Opening Your Foil Packs: Use Caution!
Whether you've cooked your foil packs out on the grill, or in the oven, you need to be careful when opening them as hot hot hot steam will release from the pack. You can slit the foil towards the top with a small knife, or you could carefully create an opening in the top of the foil. Let the steam escape before opening completely.
Check to see if the meat is done. If it is, get on with your meal. If it is not, quickly wrap it back up and return to the oven.
Grilled Summer Freezer Meal Recipes
100 Days of Summer Freezer Meals -- Grilled
Erin Chase Store – Summer 2021 Best Sellers!

Put an end to dinnertime stress with MyFreezEasy!
It's more than freezer meal plans…
It's about the flexibility, the freedom, and the savings.
You choose the recipes your family likes, even the pickiest of eaters will find a recipe they like. After that, MyFreezEasy pulls them together and gives you a customized meal plan with:
complete recipes plus doubled version to freeze

so you can easily prepare and cook your meals
shopping lists

so you can get in and out of the store
streamlined assembly instructions

so you can spend as little time as possible on the freezer meal prep
downloadable labels with directions for cooking

so you know what to do when its time to cook/reheat the meal!
In addition, you can create your customized meal plan from your computer, or even from your phone while you are at the grocery store. In just a few clicks you have a meal plan to save you time and money!
Click here for more information about becoming a MyFreezEasy member!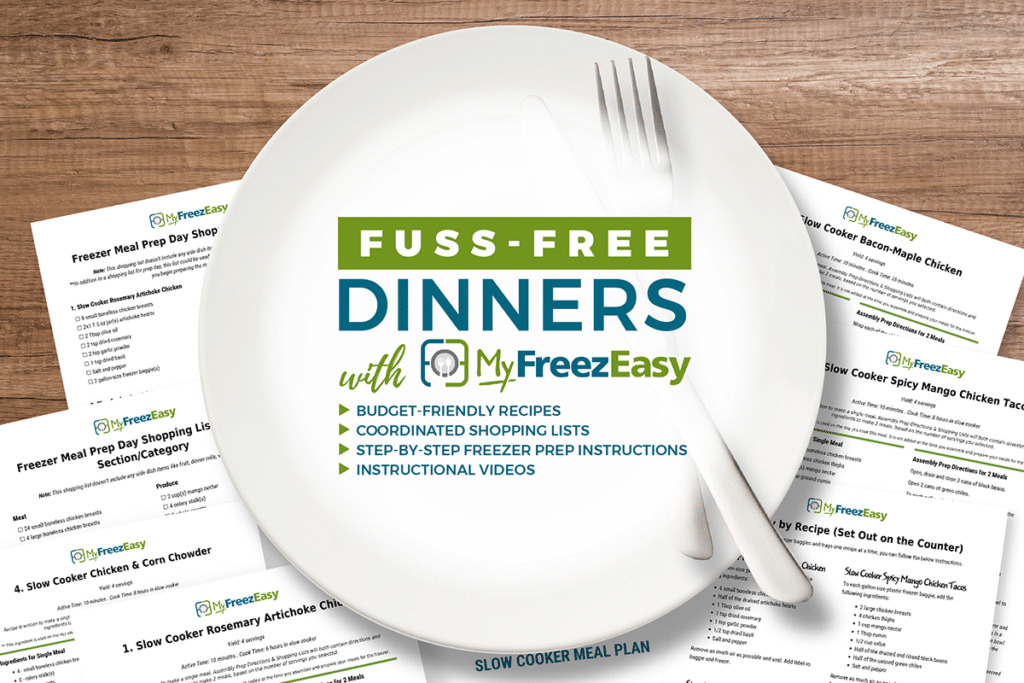 New to freezer cooking? I have the perfect workshop for you – just fill out the form below!