Let's play a game – if you've ever had any of these things happen to you – heck, if they've happened in the last two weeks! – raise your hand.
You ran around all day and found yourself stressed out and staring in the fridge at 6pm wondering what you could scrape together to feed the family. Hot dogs again, I guess.
You took the time to grocery shop and felt great buying lots of healthy veggies, but then they sat in the crisper drawer and turned to mush before you remembered them. Gross.
You actually took the time and chopped, assembled and cooked dinner, and then saw a heaping pile of dishes in the sink waiting for you (and you wanted to cry!)
You got burnt out by all of the above and just gave up and ordered something quick – a meal you didn't really want, and worst of all? felt slightly guilty for eating. Take out guilt is the WORST.
Your hand went up at least a few times there, didn't it?!
I'm no psychic – just a busy mom who's lived this over and over and over until I found a better way.
No, I didn't get my own housekeeper and personal chef – I just figured out a system to make dinners – especially those crazy busy, no-time-to-spare, weeknight dinners – healthier, less expensive (a LOT less expensive!) and EASY.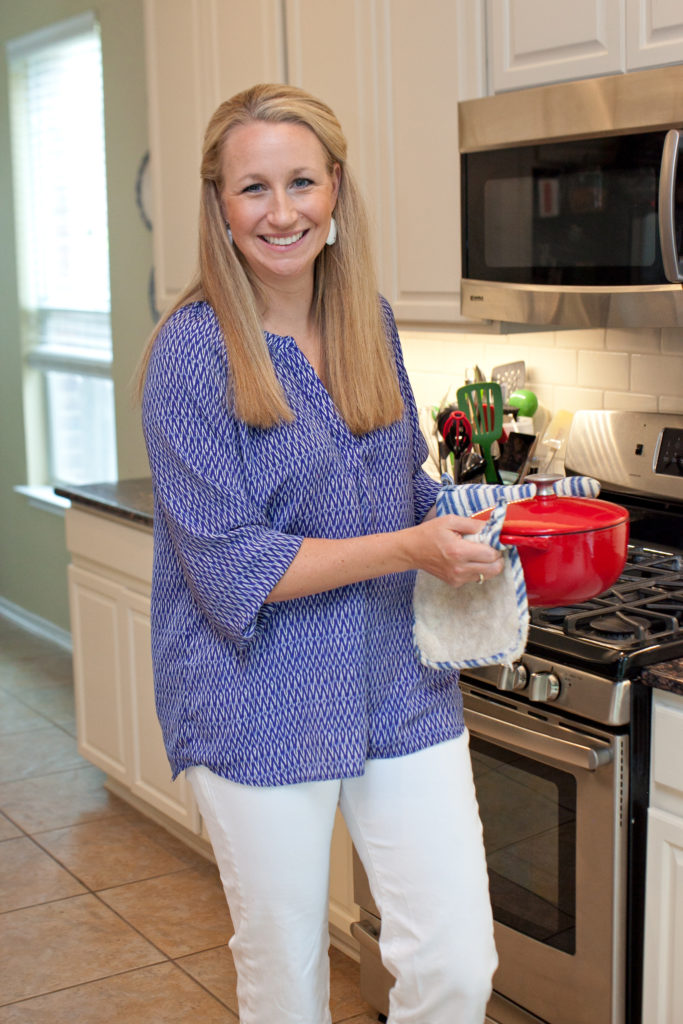 I'm Erin Chase, and you might already know me from 5dollardinners.com – the website where people just like you have saved literally HUNDREDS of THOUSANDS of dollars on their grocery budgets.
What you might not know, though, is that now I'm bringing you something EVEN COOLER.
I mean, saving some money is awesome, right? What could be better than that?
How about saving tons of time, cutting down on food waste, and freeing you from the burden of the "What's For Dinner" fight that can happen every night? Sounds too good to be true, right? No, seriously – I mean it.
Let me introduce you to a revolution in dinnertime – it's called MyFreezEasy.
MyFreezEasy is more than just a meal plan. It's a game-changing system that will have you in and out of the grocery store faster, prepping and chopping in less time than ever, and setting delicious, family-tested dinners on the table with none of that 6 o' clock stress!
The brand new MyFreezEasy meal plans were created with you – a fellow busy home chef – in mind. With MyFreezEasy, you'll have 10 to 12 meals prepared and stocked in your freezer in less than one hour.
That's right – you can have every week night for the next two weeks DONE in less than one hour.
If you've cooked anything at all, you know you can't just make a random recipe and throw it in the freezer. It takes a specific type or style of recipe and meal to make it possible to put 10 meals together and into the freezer that fast. I've designed these new pre-set freezer cooking meal plans with exactly that goal in mind.
YES – you'll get 10 meals into your freezer without spending all Sunday afternoon or all day in the kitchen. You'll have dinners DONE and your weekends free!

MyFreezEasy was designed because I totally understand the overwhelming feelings that surround feeding your family…every single day…every single night…sometimes every single hour. (At least that's how it feels some days with keeping my 4 boys fed, full, and happy!)
Forget all of that stress – I'll show you the exact steps I use to get dinner on the table on crazy busy weeknights without having a crisis or feeling like everything is falling apart.
You won't have to deal with frustrating last minute recipes (hello, what's with all the weird or hard-to-find ingredients?), mushy casseroles, or half-frozen/half-burnt microwave disasters because all of the recipes in the MyFreezEasy meal plans require very minimal prep. Just load up all the bags with the ingredients and freeze them. Then you can take the meal you want, thaw it partially in the fridge overnight or in a bowl of warm water on the counter for 20 minutes, and drop all the ingredients into the slow cooker, Dutch oven, skillet or baking dish.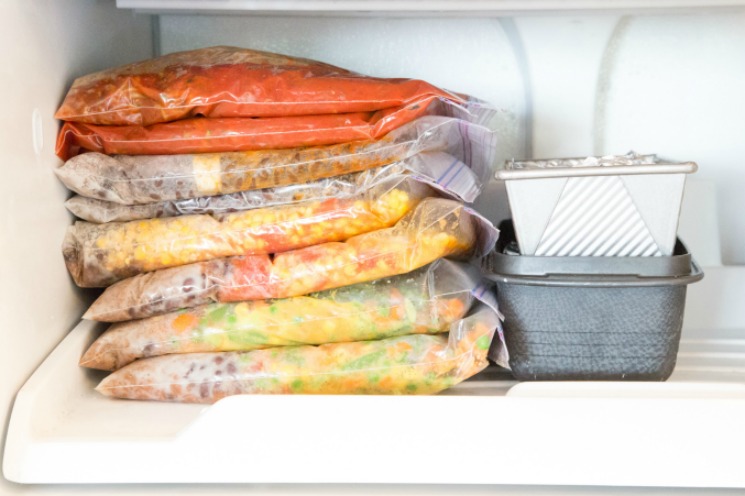 Again, if you've got an hour, you can set up TEN MEALS to put into the freezer. That's about the same amount of time you might spend preparing just ONE dinner on another evening!
Also, they don't take up a ton of room in your freezer – that's my fridge freezer right there, and those 10 meals take up less than half of the bottom shelf of my freezer. You've still got plenty of room for ice cream. *wink*
Check it out…
Premium Membership Includes Access to 8 New Meal Plans Each Month, and it covers just about any dietary concern or lifestyle choice:
Traditional Plan – 10 meals: mix of different types of meals
Gluten-Free Plan – 10 meals: completely gluten-free including sides
Slow Cooker Plan – 10 meals: all freezer to slow cooker style
Clean Eats Plan – 10 meals: all "clean ingredients"
20 Meals Plan – 20 meals: mix of different types of meals
All Chicken Plan – 10 meals: all recipes using chicken breasts/chicken thighs, so you can get the chicken on sale and stock your freezer
All Ground Beef Plan – 10 meals: all recipes using ground beef so you can get the ground beef on sale and stock your freezer
All Pork Chops Plan – 10 meals: all recipes using pork chops or pork tenderloin so you can get the pork on sale and stock your freezer
All members of the Premium Membership will get access to all 8 meal plans each month. Oh, and don't worry about boring repeats – you receive a new set of recipes and meal plans EVERY MONTH.

It's not JUST great and easy recipes, though. You'll also receive:
Well organized shopping lists arranged by grocery store section so you'll save TONS of time instead of walking back and forth in the aisles
Assembly details – including how to prep the ingredients, then load up the meals into bags and trays – you'll know exactly what to do and when to do it to make this your quickest cooking experience ever
Printable Labels for your meals' bags or trays – don't worry about getting Curry Chicken confused with Pork Chop Primavera – you'll know exactly what's what!
Highlights videos with tips and tricks for the recipes in each plan – this makes the recipes conusion free and SO easy to follow
Instructional assembly video for the meals in the Traditional Plan – you'll learn this method and never have freezer burned sadness again
Dairy-free modifications on all recipes
Gluten-free modifications on all recipes – don't worry about figuring out proper substitutions because we've done the work for you.
Voila! Just like that, you're set up for a successful prep session & everything you could possibly need to get these 10 phenomenally delicious meals into the freezer in less than an hour!

You will feel confident in the kitchen because you'll have a key strategy and set of tools and resources that will:
Free up the time you'd otherwise spend in the kitchen
Save BIG money on your grocery bill
Help you make major strides towards your financial goals
Give you more time to spend with your family (or watching Netflix, we won't tell!)
Help you get organized and finally get delicious, wholesome dinners on the table without losing your mind!

Oh, and ONE MORE THING.
If you've tried downloadable meal plans before, you may have gotten discouraged by the selection of recipes. After all, everyone's taste is different, and if you whipped up a batch of meals that were too spicy, all cream-soup based, or just not appealing, you might feel like this is an utter waste of time.
Here's why I said MyFreezEasy is one of a kind and the dinner game-changer – with the Premium membership , you get access to an OH-SO-EASY program where you get to CREATE YOUR OWN. 
AND GET ACCESS TO OUR AMAZING MOBILE APPS. (Sorry for shouting, I'm just super stoked about that we now have web and mobile apps!)
That's right – you get all the money savings, you get your free time back, you'll still have your stress free dinners AND YOU GET FREEDOM OF CHOICE.
No more wasting a whole meal because your husband hates curries or your youngest refuses to try anything with pineapple in it – this option lets you literally HAVE IT ALL, AND HAVE IT YOUR WAY!

OK, OK, don't just take my word for it, though – here's what others think about MyFreezEasy:
"The prep time and clean up intimidated me before your plans. Every freezer meal plan I found previous to yours expected an entire day of chopping, cooking, prepping, and then hours of clean up. Even if I'm cooking for over a month, that's a really tough time commitment for me, not to mention I can't afford that many groceries at once! But with your plans, I can make 2 weeks worth of meals in about the same amount of time (with about the same clean up!) As cooking just one meal start to finish. I feel like you group the right recipes together so I'm not spending a fortune on produce I can't use up, and prep is so easy." ~ Rebecca J.

"Erin, your freezer meals were the first recipes I've found that had simple ingredients that I mostly already use/have in my kitchen. I also liked that your plans were grouped into all chicken or all beef etc as I've searched for plans before but they always included recipes that my family would not eat. Every chicken and beef recipe of yours has been a hit wih my family 🙂 Thank you! I work full-time and really don't enjoy spending time in the kitchen when I get home from work – your freezer meals have transformed my cooking life!" ~ Sharon T.
Making your family healthy & quick weeknight dinners has never been easier.

Free Months
Access to 8 New Meal Plans
Traditional Assembly Video
Highlights Videos for All Plans
Access to Mobile & Tablet Apps
Adjust Serving Sizes
Create Your Own Meal Plan
Customize Existing Meal Plans
"My Favorites" Section
Premium Monthly
per month
Free Months
:
0 Months Free
Access to 8 New Meal Plans
Traditional Assembly Video
Highlights Videos for All Plans
Access to Mobile & Tablet Apps
Create Your Own Meal Plan
Customize Existing Meal Plans
Premium Quarterly
per quarter
Free Months
:
0 Months Free
Access to 8 New Meal Plans
Traditional Assembly Video
Highlights Videos for All Plans
Access to Mobile & Tablet Apps
Create Your Own Meal Plan
Customize Existing Meal Plans
Free Months
:
2+ Months Free!!
Access to 8 New Meal Plans
Traditional Assembly Video
Highlights Videos for All Plans
Access to Mobile & Tablet Apps
Create Your Own Meal Plan
Customize Existing Meal Plans
(If you have pop-ups blocked in your browser and don't see the order forms when you click, please complete your order here.)
Upon purchase, you will automatically receive an email with the information on how to login into the member area to access the meal plans, videos and other resources. If you don't see an email from me within a few minutes or have any trouble with your login, please email support @ freezeasy.com.
WAIT A SECOND – I HAVE QUESTIONS.
I've never tried freezer cooking – how do I even get started?
I'm so happy you're ready to try something new! Freezer cooking is an excellent technique because it really can make your life so much easier. I'm not just saying that because it sounds good. I'm saying that because it's TRUE.
However, if you're not ready to dive into the whole program yet, I'd love to teach you a little more about it in my free freezer cooking 101 workshop. I'll send you a free sample meal plan of what we offer in the monthly membership, too. You can sign up for the workshop and the free sample plan here.
I don't understand what can and can't be frozen, and when I try to thaw things, I'm worried I'm doing it wrong – I don't want to make anyone sick!
Food safety is SUPER important to me – after all, I feed my family this way, too! With our step by step instructions and helpful videos, you'll finally know how to prep, freeze, cook, and clean in a way that's both easy and SAFE.
We're a family of picky eaters – will there be recipes I even like?
Check out the PREMIUM option – you still get to have all of the ease of the system AND you'll get to pick and choose. No more wasted, sad dinners!
The thought of spending all that time on the weekend prepping, chopping, cooking and cleaning up the mess sounds like torture. Are you sure this can help a non-cook like me?
TOTALLY. Again, the MyFreezEasy system was designed to MINIMIZE the time spent in the kitchen. Even if you're brand new to cooking or just resistant to kitchen chores, you'll learn time-saving techniques and quick tricks to make dinners FASTER than ever before. Best of all, you'll get to use these techniques even when you're NOT freezer cooking! (But I'm pretty sure freezer cooking is about to become your new favorite thing!)
I don't have a huge freezer – will I be able to fit ALL THAT FOOD?
OK, go to your freezer right now. Seriously, I'll wait here. Back yet? OK, good. If you saw a box of waffles and a Costco-sized bag of frozen chicken nuggets, you've got room for these ten meals. They're that compact.
I don't have time to find a long list of ingredients, and I'm on a pretty tight budget. When I realize I don't have whatever spice the recipe calls for, I usually give up and order a quick pizza. How can this be faster or cheaper than that?
As the mom chef behind $5 Dinners, I can PROMISE you that this system was made with tight budgets in mind. Feeding a family on a budget has been my main focus for 8+ years now, and I've helped hundreds of thousands of others just like you do the same.
Also, if you tally up the time it takes to order food, drive to pick it up, drive back and serve it, or the amount of time it takes to run to the grocery store to grab something quick EVERY SINGLE NIGHT, you'll find that freezer cooking with these done-for-you resources can save up to TEN HOURS A WEEK. Not even exaggerating. That's ten hours you could be spending with your family, reading a book, walking the dog – whatever it is you WANT to be doing instead of stressing out in the kitchen or waiting in line at a drive through. Totally worth giving this a try, right?