I'd love to help you build personalized and customized meal plans in minutes, so you'll have the perfect set of meals in your freezer. The new meal plan builder tool is now available and with it, you can create or customize our meal plans so they are perfect for you and your family's taste preferences and food restrictions.
This amazing new resource is a web based application that works on your desktop or laptop computer. Mobile and tablet integration is in the works.
Premium membership will include access to the 8 themed meal plans that we release each month AND access to the meal plan builder desktop tool. Watch to see how it works and how easy it is to get your freezer meal plan…
New Features Include:
Customizable serving sizes – adjust to 2, 4, 6 or 8 servings
Option to swap recipes in and out of the meal plans that our team creates each month
Option to email yourself the meal plan that you create
Option to "clear meal list" to build a second meal plan
Coming soon! My Favorites recipe section
Future plans include: shopping list-mobile app integration (so you can view the shopping list from the meal plans you create on your phone), option to submit your recipes for review (as recipes must fit the right "FreezEasy style") & ability to purchase "one-day pass" to use the desktop app to create up to 4 meal plans that are perfect for your family.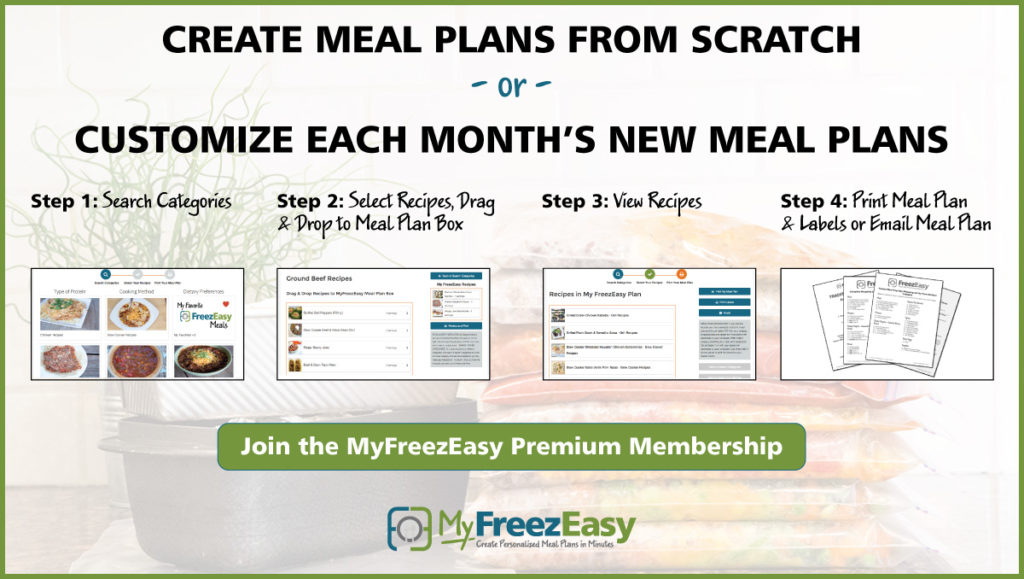 If you'd to join the Premium membership, you have the option to choose from the monthly plan or the annual plan. Please note that the monthly plan is paid quarterly.
Free Months
Access to 8 New Meal Plans
Traditional Assembly Video
Highlights Videos for All Plans
Adjust Serving Sizes
Create Your Own Meal Plan
Customize Existing Meal Plans
"My Favorites" Section