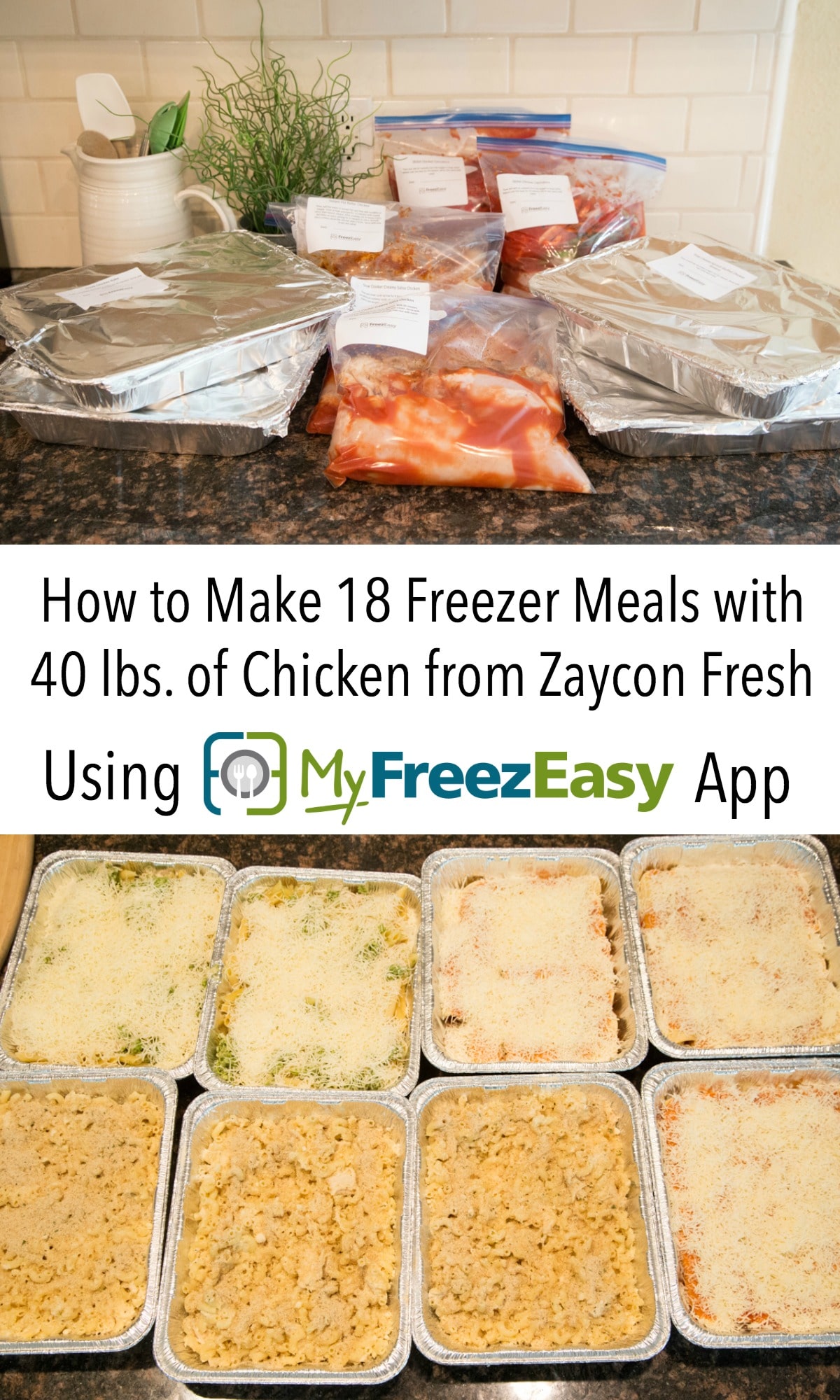 Welp, a little meal fairy came buzzing through my kitchen this week and helped me get 18 meals prepped and into the freezer. That fairy was really me…and I love, love, love the week that Zaycon Fresh arrives in my area. It turns me into a meal fairy and I get super silly and giddy about getting great quality chicken into the freezer as amazing, tasty meals.
This time, my order was for 40 lbs. of boneless, skinless chicken breasts. Yes, 40 lbs. (It's really not as much as it seems!) I knew that I'd be able to make between 16-18 meals for my family of 6 with this chicken. I can't give you a specific number of chicken breasts, but I can give you these estimates…
4 servings – 22 to 24 meals
6 servings – 16 to 18 meals
8 servings – 11 to 12 meals
You can see above what I ended up with. I do have a deep freezer for all those tray meals, but with strategic stacking and making more "bag meals" than tray meals, you might be able to get all the bags into a fridge freezer.
If you're curious about this whole "bulk meat drive-thru service," I'd recommend signing up and seeing what products they have coming to your area soon. The products vary a bit by region, as do the pickup times. The next chicken pickup isn't until October-November, but it's well worth the wait. (And you'll have plenty of time to plan what you want to make!)
Sign Up for Zaycon Fresh and Place your Order Now, or Watch for their Specials and Deals on your favorite Meats and Order Then. If you're a brand new customer, use the promo code ZAYCON20 for $20 off first order for $75 or more.
My Game Plan & Timeline
Go into the MyFreezEasy app and select 16-18 meals to make for the freezer. (Tuesday morning.)
Pick up my Zaycon Fresh order. (Tuesday evening. Video below.)
Go to Grocery Store to pick up other ingredients needed – MyFreezEasy told me what I needed and the quantities based on 6 serving meals in the "Freezer Meal Prep Day Shopping List." (Tuesday late evening.)
Slow Cook 12 chicken breasts overnight, so that I'd have chicken ready for "shredding" for the last 3 recipes on the list below. (Except I totally forgot to do this and ended up starting the slow cooker around 6:30 am! Whoops!)
Prepare meals for the freezer. (Wednesday morning. Video below.)
Take a nap. (Kidding, sorta! It's actually more exhausting being on live video for 2 hours than it is putting the meals together! lol)
Enjoy the fruits of my labor. This really is a "you reap what you sow" kind of situation!
The Recipes
I made 16 meals of 6 servings each with the chicken from Zaycon Fresh. Here are the recipes:
Slow Cooker Creamy Salsa Chicken
Instant Pot Butter Chicken
Skillet Chicken Cacciatore
Greek Chicken Bake
Goat Cheese-Apricot Stuffed Chicken
Cheesy Chicken Enchiladas
Chicken & Ranch Macaroni
Chicken Pesto Pasta Bake
The Tools Used
Place your order from our store and we'll send you these fantastic freezer meal bag holders today!
Grab these long handled wooden measuring spoons from Utensi on Amazon.
Ground Beef Chopper, Mixer and Sauce Maker – available here on Amazon
The Pick Up and Meal Prep Videos
Here's a shorter video sharing what Zaycon Fresh is and how it works. We even talk to one of their ambassadors for a minute, his "tears" comment had me cracking up!
Here here's a much longer video with a TON of information about these recipes, freezer cooking in general and how MyFreezEasy web app works. If you want to "listen while your fold laundry" or something like that, I highly recommend that! So much teaching and encouragement happens in this video…
What Next??
If you're still not sure how this whole freezer cooking thing works, then I'd start with our free online workshop. You can go through the short videos (5 minutes each) at your own pace and convenience, and at the end of the workshop, I've got a fun surprise for you!
If you've got a Zaycon order coming up and you want help with the recipes and plans (but don't want to become a member), check these out
Zaycon Fresh specific meal plans
. They are a 1-time purchase and you don't have to commit to a membership. See the
recipes and options here
.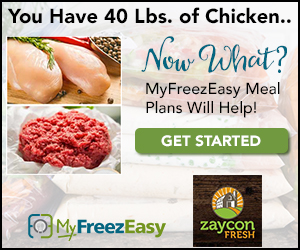 Finally, if you're ready to take the plunge and start saving $$ on meat and groceries AND get organized in the kitchen, then it's time to become a MyFreezEasy member. You'll be able to personalize your freezer meal plans by picking the recipes your family will enjoy and choosing the right serving size for your meals. We have a few different membership pricing options that are sure to fit your budget. Here's where to join MyFreezEasy!