Make Ahead Holiday Hacks for the Kitchen
Holiday hacks are a must, in my opinion. They aren't important because I dislike the holidays or anything.
I adore the holiday season. The change of pace is nice, to a degree. The gift buying and giving is exciting, but not so much the wrapping. My favorite part is the ornament hanging and decorating our home, especially when everyone helps. I love getting to put together our family Christmas card…especially now that my boys are all old enough to look at the camera and smile all.at.the.same.time. The struggle is real!
I love the smells and the flavors of the season. I adore the cookie exchanges, the parties and the school programs with adorable little people singing Christmas songs.
But… wrap it all together (pun intended) with the other activities and parties and social gatherings, plus school holidays and it's about all this busy mama can take. It's almost enough for me to want to run for the hills. But I've learned the key element of "prep-ahead" when it comes to the holiday season!
RELATED RESOURCES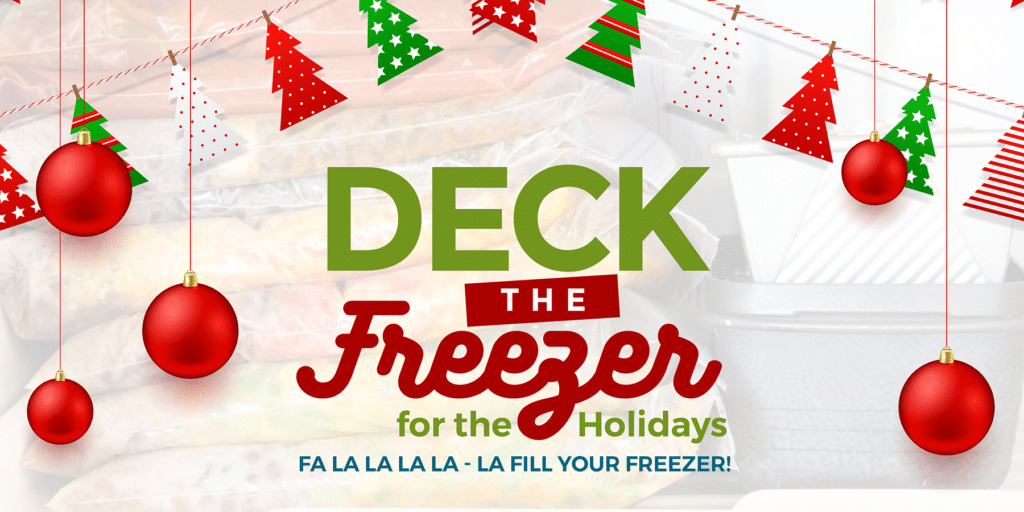 Holiday Hacks
Some of my favorite ways to get holiday-ready is getting a few things done before our schedule fills up. I get some shopping done, do some meal prepping, and make a big batch of cookie dough!
The Pantry
Another thing I do is check to be sure that my pantry is stocked. It's so helpful when it's full of popular holiday meal and side dish ingredients.
The Freezer
I load up my freezer with amazing meals. This is one less thing to stress about. Knowing I don't have to fuss with dinner the few days before Thanksgiving is such a stress reliever. Especially when I'm solely focused on our big family feast!
Pro tip: make as many side dishes you can, ahead of time. You can find 10 great make-ahead holiday side dishes here.
After stocking up the pantry and freezer, I decide what cookies we will make for ourselves, for cookie exchanges and for social gatherings and I get the dough made and into the freezer. Sugar cookie dough freezes really well and makes for beautifully baked sugar cookies that you can frost and ice to perfection.
Working ahead and getting a few things crossed off the to-do list in advance makes gliding through the holi-daze just that much easier!
Traveling for the holidays? Tap here to learn how to take your freezer meals on the road!
Speaking of cookie dough…
Holiday Hacks for Baking
Holiday cookie baking on a budget? Yes please! Both a time budget and a dollar budget. Here's what you need to know…
Watch the sales. Search the store ads inside out, and definitely grab ingredients when they are on the front page of the circular.
Use coupons. Holiday baking and Thanksgiving feast ingredients are in a tight race for both quantity of coupons released, as well as value of coupons released during this season. There are a slew of coupons available at the moment for all your holiday baking needs.
Find low prices at Walmart for all your baking goods. (And don't forget to use your coupons in conjunction. And price match too!)
Stock up. When you have coupons and see great sale prices, buy a few extra packages of the ingredient you need (especially the more expensive ingredients like nuts and caramels).
Double up. Make an extra batch of the dough while you're making the mess and freeze the other half to bake yourself later, or gift to a friend. (You will be my best best best friend forever if you give me frozen cookie dough!)
Use these resources from The Erin Chase Store to prep for the holidays!
New to freezer cooking? I have the perfect workshop for you – just fill out the form below!
Cheers to a fun and delicious holiday season!
xo
Erin