The Top 4 Freezer Meal Fails + How To Turn Them into Wins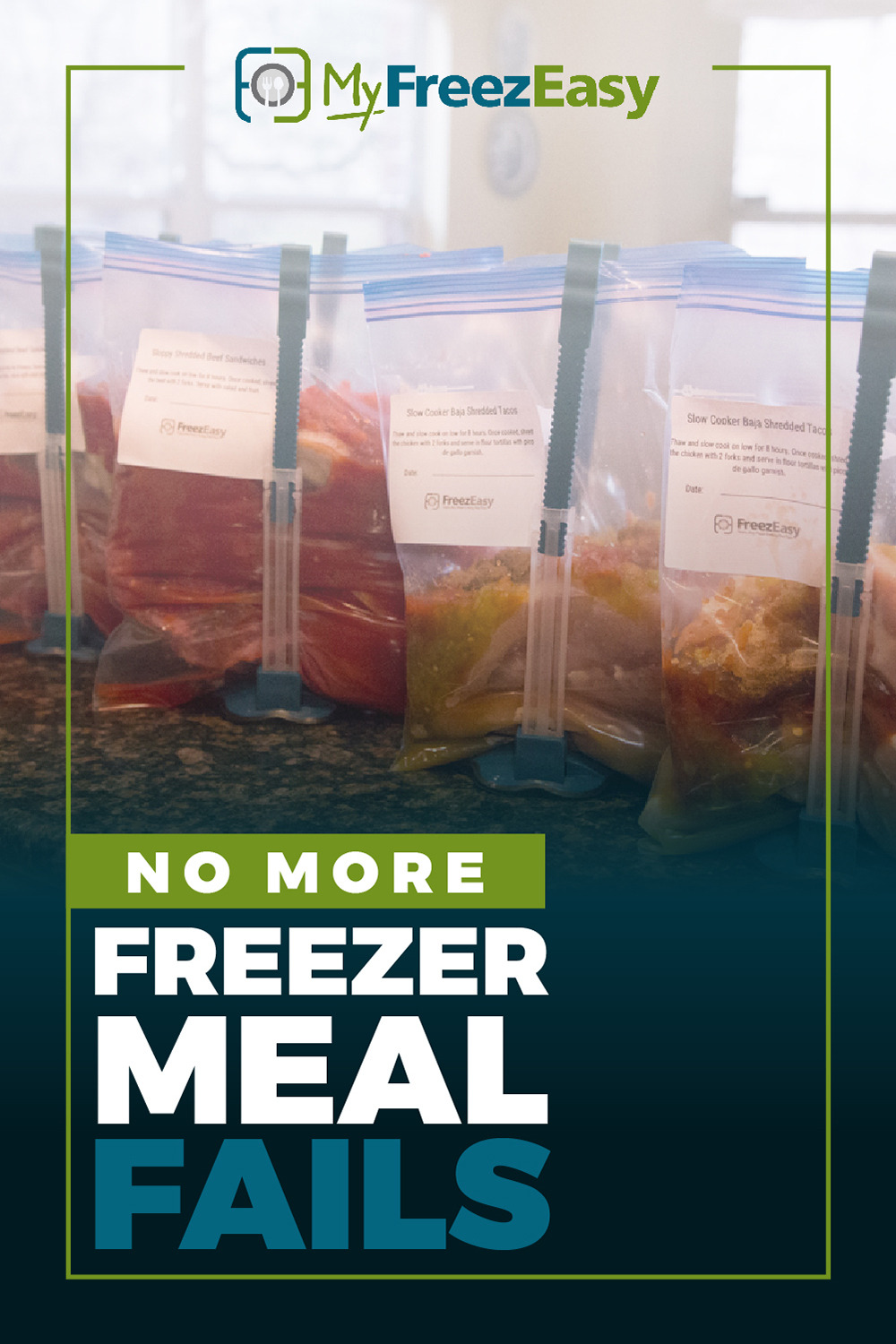 There's a saying of sorts that goes something like, "If you're going to do it, you might as well do it right." I feel this way about freezer meals. I want to help you do it right. No one has time to waste or extra money growing on a tree, so let's cut to the chase and make sure you feel like a winner instead of a failure at the end of your freezer cooking session. Browse around and find a new trick to try the next time you are prepping your freezer meals.
FAIL #1: Thinking a small freezer is great excuse to ignore the magic of freezer meals
Win #1: Flat freezing.
Freezer space is prime real estate in my kitchen! If you are looking to save some freezer space, I recommend "flat freezing" your freezer baggies.
After putting all your ingredients in the freezer bag, remove as much as you can by pressing air bubbles out of the bag. Then, stack baggie meals together and place in your freezer.
If you're worried about the bags sticking together (this has only happened to me in my deep freezer, never in the fridge freezer!), then you can add a small piece of wax or parchment paper in between the bags.
This set of ten MyFreezEasy meals takes up less than 1/2 of the bottom shelf in my fridge freezer.
So start making all the pizza you've been secretly hoarding in your freezer and make room for some healthful, delicious homemade freezer meals!
FAIL #2: The unknown depths of the jam-packed freezer = wasted food
Win #2: Organize your freezer meals.
Basically, you want to "Konmari your freezer"!!!
Let me just tell you…digging around in your deep freezer, trying to find freezer meals that you stacked nicely to freeze isn't always easy. They easily get buried by other meals, bags of ingredients and other items you have in the freezer. When it comes time to fish one out, it's a dreadful task. You start digging. Pulling things out, one at a time.
Then you think about calling off your deep freezer search for the meal you want…because your fingers are about to freeze off. So instead of digging farther, you decide that calling for take out is far easier than this adventure into the depths of the freezer.
Life doesn't have to be this hard. I knew I needed a better system for these freezer meals.
In the past, I've tried to fit a box from Costco – but it was too large. So when this perfectly size box showed up from Amazon, I took action. I wrapped the folding tops in duct tape and made my own taller box to hold our freezer meals upright. They are so much easier to find and grab!!!
See – Konmari-ed – where everything is easy to see and pull from the box!
And no more frozen fingertips from digging through the freezer!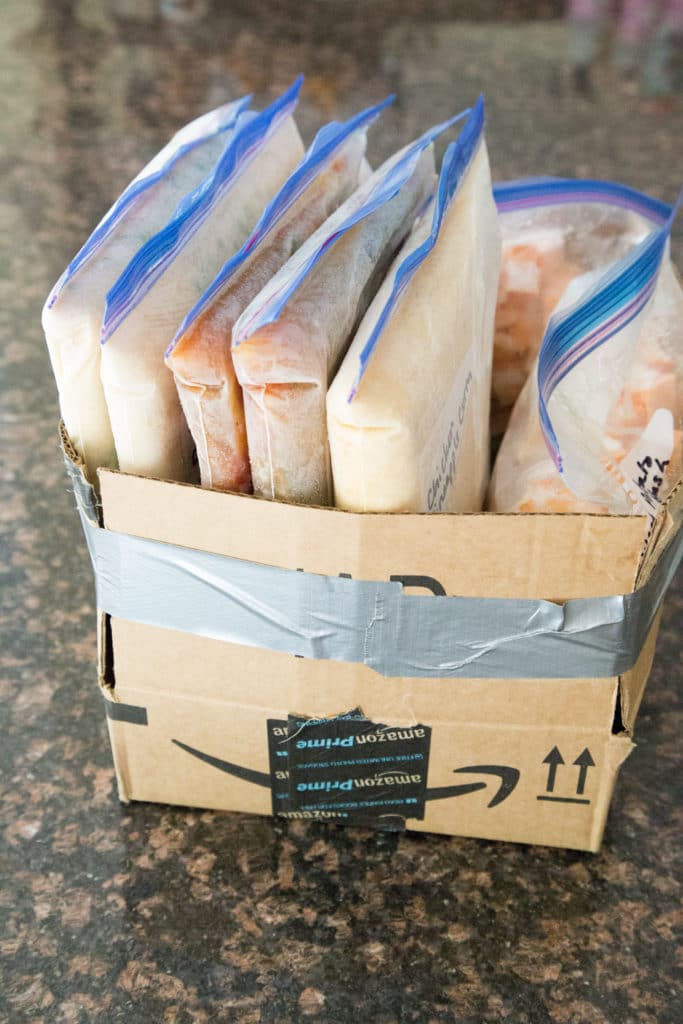 Here's the step-by-step for setting up your freezer with boxes…
Flat freeze your meals. Use small pieces of parchment or wax paper in between the bags to keep them from freezing together.
Once frozen, lift out the bags and place them into the box.
If need be, rearrange so the box will fit and the top will close.
Place box into deep freezer.
Easily pull meals out as you need them.
And digging to the depths. If I need to get to the green beans, or pineapple or other food that's below the box, just lift out the box…then put it back in. No taking meals and bags out one by one, looking for what I need for dinner…or smoothies…or whatever.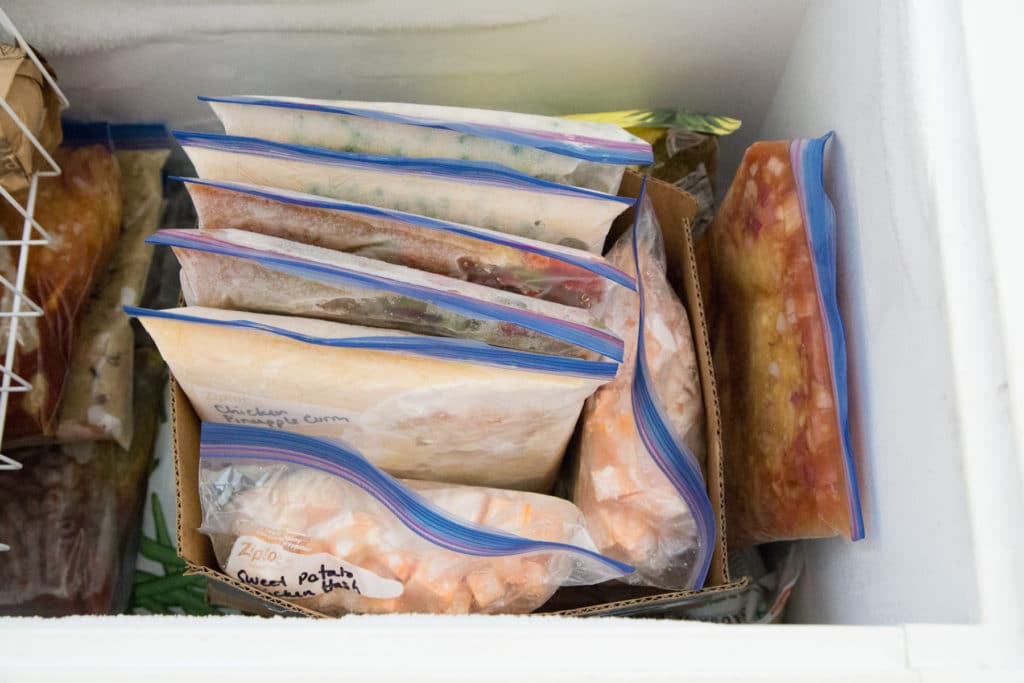 LAYERS CONCEPT
If you really want to be organized, then you need to be like Susanne. She shared this on my Facebook page and it's genius!
"Laughing because my chest freezer has Costco boxes stacked the exact same way. I got tired of digging for the stuff on the bottom! So hubby had the idea to make "layers" of food…we eat about a layer a week. Each layer has some shredded cheese, yogurt box, some chicken meals, some ground beef and or meatballs, and chicken nuggets or strips for lunch. Veggies are in a separate box on the side on top of my bulk sausage boxes." – Suzanne
When you do bulk shopping or freezer meal prep, set up your meals and ingredients you need for a week into a layer.
I adore this "layers a week" concept…what a smart way to be organized with your freezer meals & frozen ingredients!

FAIL #3: Forgetting to thaw your meal leads to overspending on take out meals.
Win #3: Learn how to quickly and safely thaw freezer meals.
The best method for thawing frozen meals is putting the meal in the refrigerator overnight, or sometimes up to 2 days.
I prefer to thaw them this way, but I'm also a busy mom with four boys and I often forget to pull them out on time…even when it's written on my calendar or to-do list. It happens, but dinner can still go on!
Pro Tip: set an alarm on your phone as a reminder for thawing meats!
If you do forget, you can take them out that same day and thaw in a bowl of lukewarm water. It will quickly thaw this way, the time dependent on the thickness of the baggie or container. When I 'quick-thaw' things, it can take anywhere from 20 minutes to an hour.
Important Note: If utilizing the quick thaw method for raw meats, please don't leave raw meat out on the counter in a bowl of warm water. Always let raw meat thaw in the refrigerator to keep it at proper cold temperatures. You can thaw raw meat in a bowl of warm water in the refrigerator if you need it to thaw out quickly.
FAIL #4: Freezer bags sticking together makes for a frustrating mess.
Win #3: Learn how to stop the stick with these tips.
Imagine you've made a set of fantastic freezer meals.
All the ingredients were carefully loaded into their bags. The labels were printed and stuck on the bags. You happily stacked your meals into the freezer with a smile.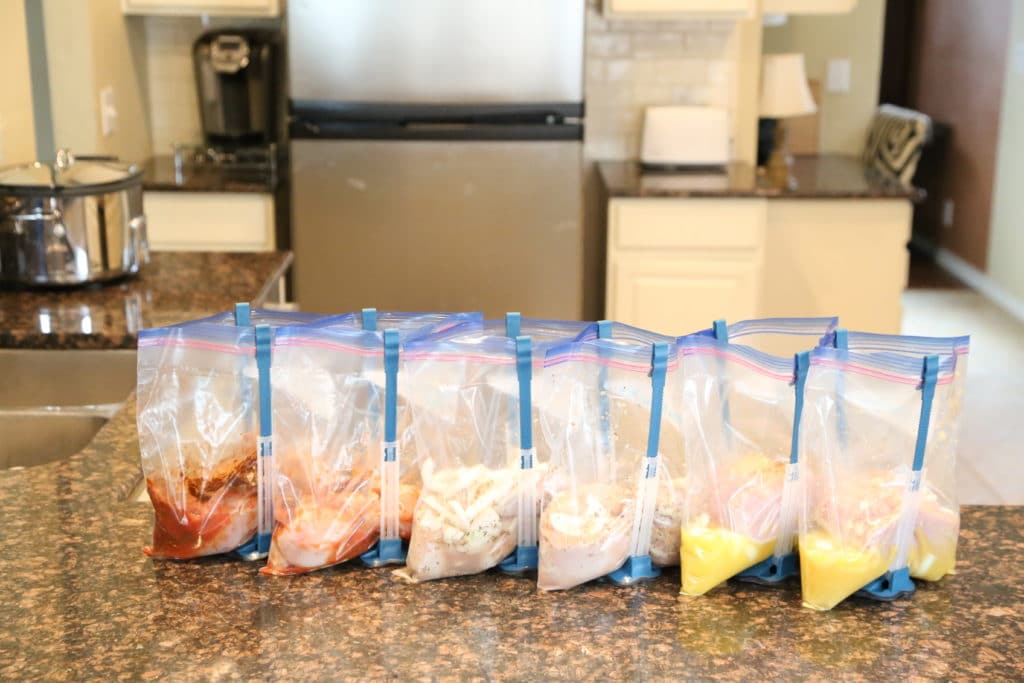 BUT.
You go to pull out your favorite meal a few days later and… all the bags are STUCK.
As you try to pull the bags apart, they tear.
Now you've got a big mess. So much for stress free dinner, huh?
Nope. This isn't your story.
Let's rewind.
After you prepped the meals, you stacked them into the freezer with a sheet of parchment of paper between each one.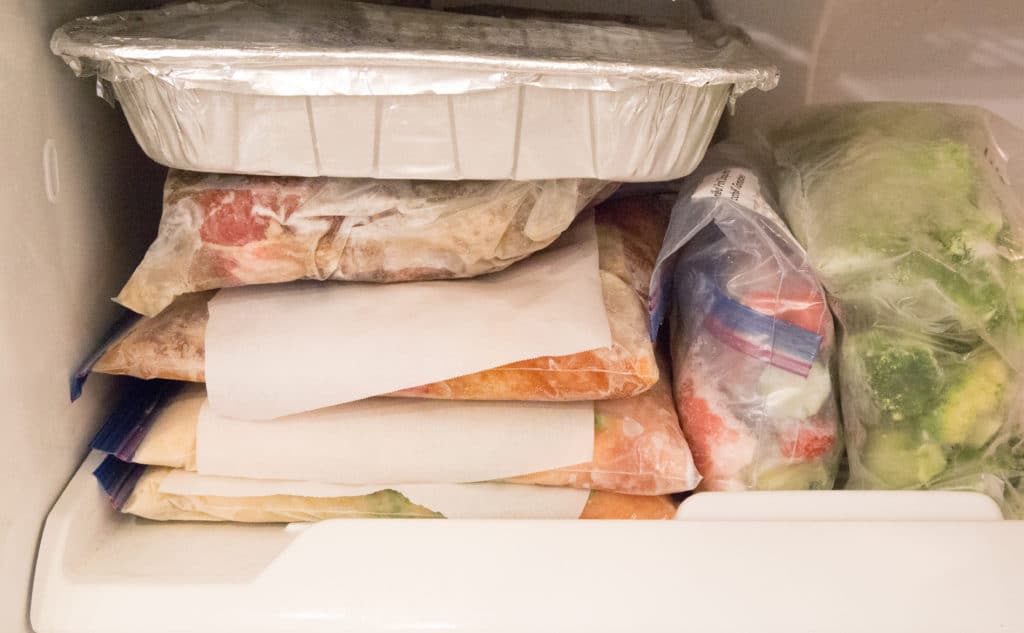 Parchment paper.
Or wax paper.
Or freezer paper.
Or a piece of foil.
Yes, it's that simple!
Also, don't forget to stand up your meals in a box once they are frozen, so you'll be able to easily grab them from your freezer!
RELATED RESOURCES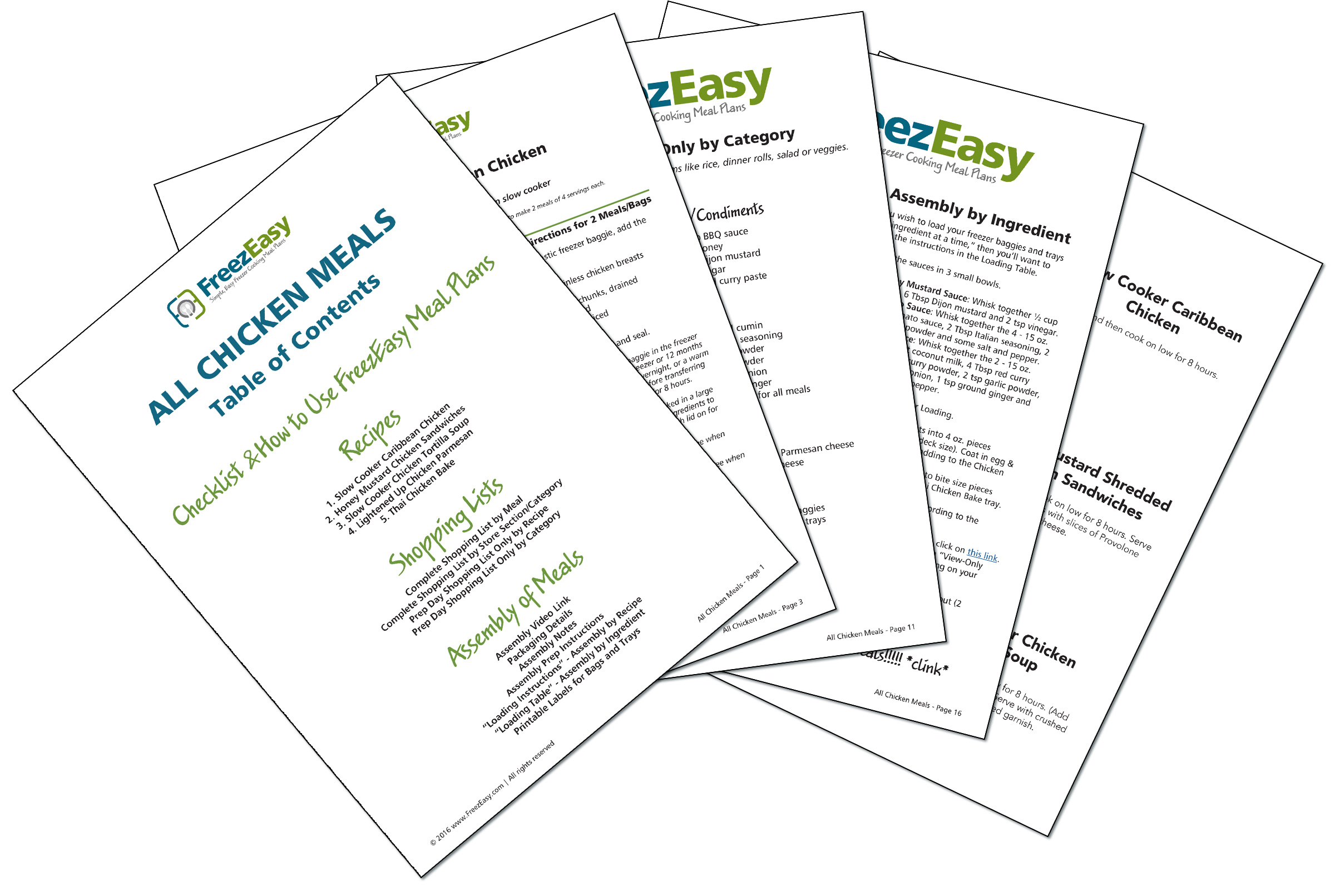 Put an end to dinnertime stress with MyFreezEasy
It's more than freezer meal plans…
You choose the recipes your family likes, then MyFreezEasy pulls them together and gives you a customized meal plan with:
complete recipes plus doubled version to freeze

so you can easily prepare and cook your meals
shopping lists

so you can get in and out of the store
streamlined assembly instructions

so you can spend as little time as possible on the freezer meal prep
downloadable labels with directions for cooking

so you know what to do when its time to cook/reheat the meal!
You can create your customized meal plan from your computer, or even from your phone while you are at the grocery store!
Click here for more information about becoming a MyFreezEasy member!
Freezer Meal Resources from ShopFreezEasy
New to freezer cooking? I have the perfect workshop for you – just fill out the form below!